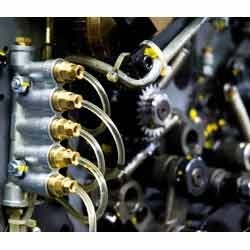 D G CLEANER :
D. G. Cleanser is a powerful solvent emulsion cleaner for removing all types of mineral greases and oils from metal and other surfaces. It converts the deposits into an emulsifiable material which can be hosed oil using water. In hosing off associated inorganic and carbonaceous deposits are often removed simultaneously.
Application: Hundreds of metal cleaning jobs are within the scope of DG Cleanser. It is a concentrated liquid with high solvent penetration properties. It can be applied by dip tank, brush or spray. It should be applied neat to the surface, allowed to penetrate for a short time and removed by a water jet.
Engine block cleaning
Degreasing metal components in engineering
Removal of anti-corrosion coatings
Easily rinse able with complete removal from surface
Non-corrosive to steel and common metals.
Good storage stability.
Emulsion can be easily split for disposal.
Biodegradable.
Automotive Lubricants Oil | Industrial Specialty Lubricants | Industrial Lubricating Oils | Specialty Fluids | Apple Tree Spray Oil | All Purpose Grease