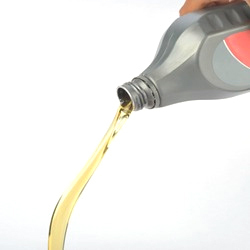 Circulating Oils
Express HYCO AW 32/46/68/100/150/220/320
EXPRESS HYCO 32 /46 /68 /100 / 150 / 220 / 320/460 oils are straight mineral lubricants having good inherent oxidation stability, protect machine elements from excessive wear and provide economical lubrication. It meets IS: 493-1981(Part 1) specifications. These oils are normally recommended for non-critical all loss lubrication systems and hand oiling applications involving lubrication of bearings, open gears, lightly loaded slides and guide ways of machine tools. EXPRESS HYCO oils of appropriate viscosity are widely used in textile mills for lubrication of looms and other equipments which do not require additive
treated oils.
Performance: IS 10522 : 1983
Size:
Use :
Anti wear, HLP type
Express HYMAX 32/46/68/100/150/220/320
EXPRESS HYMAX HLP oils are formulated from hydrocracked base stocks with inherent oxidation and thermal stability. The products are further fortified with antioxidant, antirust, antifoam and anti-Wear additives, and special additives which assist in maintaining viscosity under continuous use & severity of operation.
Performance: IS 11656 : 1986
Size:
Use:
R-Clean
Tailor made blends
EXPRESS R-Clean is water scourable type general purpose metal and other industrial components degreasing and cleaning fluid.
EXPRESS R-Clean removes oil, dirt & other deposits from the surface of work piece.
EXPRESS R-Clean is applied neat on the surface of metal component and removed by water jet.
EXPRESS R-Clean provides antirust properties to dispersed milky emulsion to protect the ferrous metal from rusting.
Other Information
Minimum Order Quantity: 100 Litre
Hydraulic Machinery Oils, Hydraulic Machine Oil, Industrial Oil, Apple Tree Spray Oil Exporter, Manufacturer, Suppliers, Exporters
Automotive Lubricants Oil | Industrial Specialty Lubricants | Industrial Lubricating Oils | Specialty Fluids